The Open Book, Blue

January 2001

16"h x 22"w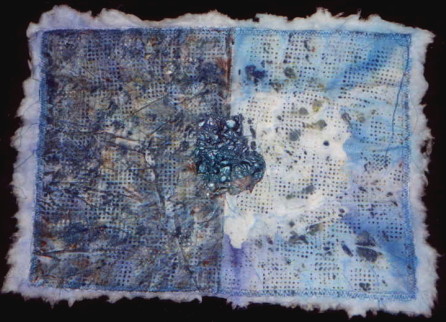 Fabric painted in a class with
Sherrill Kahn
. Assembled, quilted, then painted edge batting with Setacolor which migrated inwards, achieving the framing effect.  The central "nugget" is a metallic painted piece of Tyvek melted with a heat gun.
This piece was displayed at the
SCMAC
show "Blue" in February 2001.
This piece was featured in an article by Eleanor Dugan in The Quilting Quarterly, the Journal of the
National Quilting Association
, Volume 31, Number 2, Summer 2002.
Inspiration:  When we open the book of our lives there is usually a lot going on around the edges.  But what is most important and crucial to our character is in the center, a shining jewel of our compressed essence.

Error processing SSI file